MICappella's Album Launch Press Conference & Listening Party
Since their debut album <Here We Go> released three years ago, local vocal band MICappella have never stopped making waves in the music scene with their consistent release of creative mashup cover videos. With a change of the band's lineup, MICappella took a full three years to finally release their sophomore album <MICappella Reloaded>.

Compared to their debut album, the new album comprises of almost all original songs written by all members of the band, demonstrating that they are more than just a cover band. <MICappella Reloaded> signifies the band's brand new identity as singer-songwriters as they embarked on a new journey with two new members, Kexin (soprano) and Mingwei (bass).

The album launch press conference was held on 26th May at Avalon Singapore, where the skyline of the city can be seen as the one on the album cover. The band shared the process and their thoughts of finally able to pen their original songs that represent who they are, and share their stories and messages to the world. MICappella showcased two songs, namely their first hit single 'One of These Days' and their second hit single 'Love'. These two contrasting songs demonstrated the band's perfect harmonies and abilities to control their individual vocals in both an upbeat song and a slow tune.

The highlight of the press conference is the official announcement of the signing of MICappella to Universal Music Group worldwide. The band were joined on stage by Mr Kenny Ong, Managing Director of Universal Music Singapore and Malaysia, to declare the official signing. With a new recording contract from a major label, MICappella is set on a fresh direction and creative in their music, and is determined to deliver more content to new audience in different countries around the world.

In the evening, MICappella held the album launch listening party at the very same venue. The venue was packed with fans, and friends and family members of MICappella who came down to lend their support to the band's sophomore album launch.
MICappella's brand new original album <MICappella Reloaded> is available at all CD-RAMA stores and digital platforms!
Alfred Sim EP Launch Party 2016
Since winning 2014 Project Superstar, Alfred Sim has finally released his debut self-titled EP on 14 January 2016!
The EP launch press conference, organized by record label and artiste management company Cross Ratio Entertainment, was held on 14th January 2016 at SWITCH by Timbre.

Other than sharing the process of making the EP and his feelings of finally being able to release his own song, Alfred Sim also showcased 2 songs, namely <Lover> and <Glimmer>. Another highlight of the press conference was the exclusive premier of his hit single <Make a phone call>. This music video has taken weeks of conceptualisation and preparation, and 15 hours of filming, before it is finally produced. The two MV directors, Jaex and Brian, were also invited on stage by host, Jiafa, to share the challenges in making the music video and their inspiration.

In the evening, Cross Ratio Entertainment has also organised an album launch Listening Party at the very same venue. Other than the fans who have come to support the singer, many celebrities, such as Ian Fang, Pierre Png, Sora Ma, You Yi, Bonnie Loo, Ah Boys to Man's Wei Liang, MICappella and many more, were also present to give their support to Alfred Sim's debut launch.

At the listening party, Alfred Sim serenaded the audience with his new songs, <Lover>, <My Friend>, <Glimmer> and <Yi Ai Wei Hao> from the album. The accompanying live band is also made up of "superstar' players, including guitarist Daniel Chai who plays for Stefanie Sun, and also bassist Shaun Seow who tours with JJ Lin and Wang Lee Hom. This power band, together with Alfred's strong vocals, brought the overall live performance to a even greater height.

Many celebrity friends have also specially recorded a congratulatory video for Alfred Sim, which was played at the start of the Listening Party, before the screening of the <Make a phone call> music video.
The other highlight of the show was the special surprise performance by the singer himself. In order to show his appreciation to all his fans and friends who have supported him, Alfred Sim took up drumming lessons recently. In the second half of the song - <My Friend>, the singer took over the drummer's seat, and performed a drum solo segment before ending the song.

The audience was in praise of this special performance as many are unaware that Alfred can play the drums!
The night ended perfectly with singer and wife Tay Kewei joining him on stage to perform their wedding duet <Yi Ai Wei Hao>. Alfred Sim Debut Self Titled EP is now available at all CD RAMA stores and all good record stores.

Fans can also catch the music video of Alfred Sim's latest hit single <Make a phone call> on Alfred Sim's Official Facebook
Wallace Ang's Press Conference / Album Launch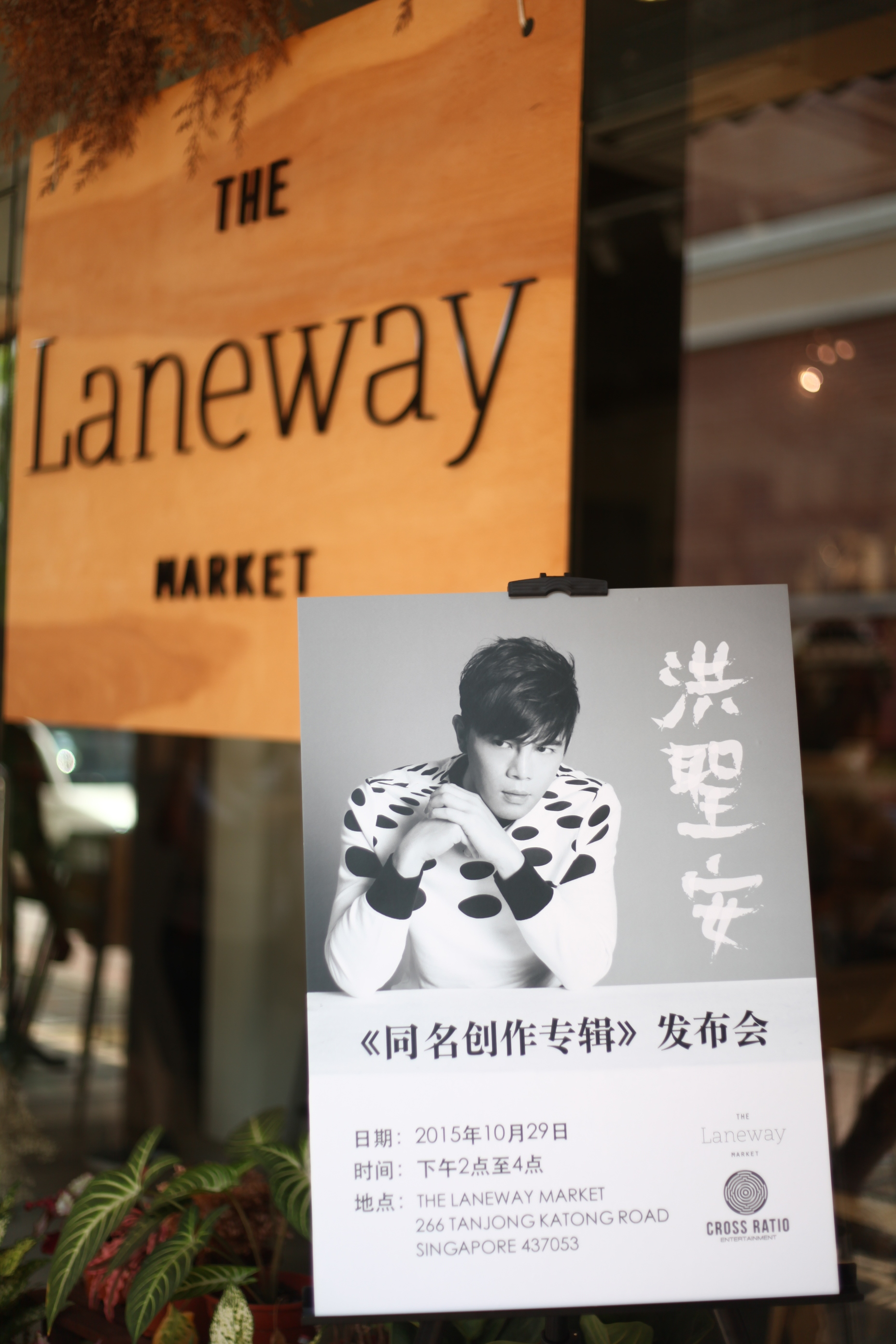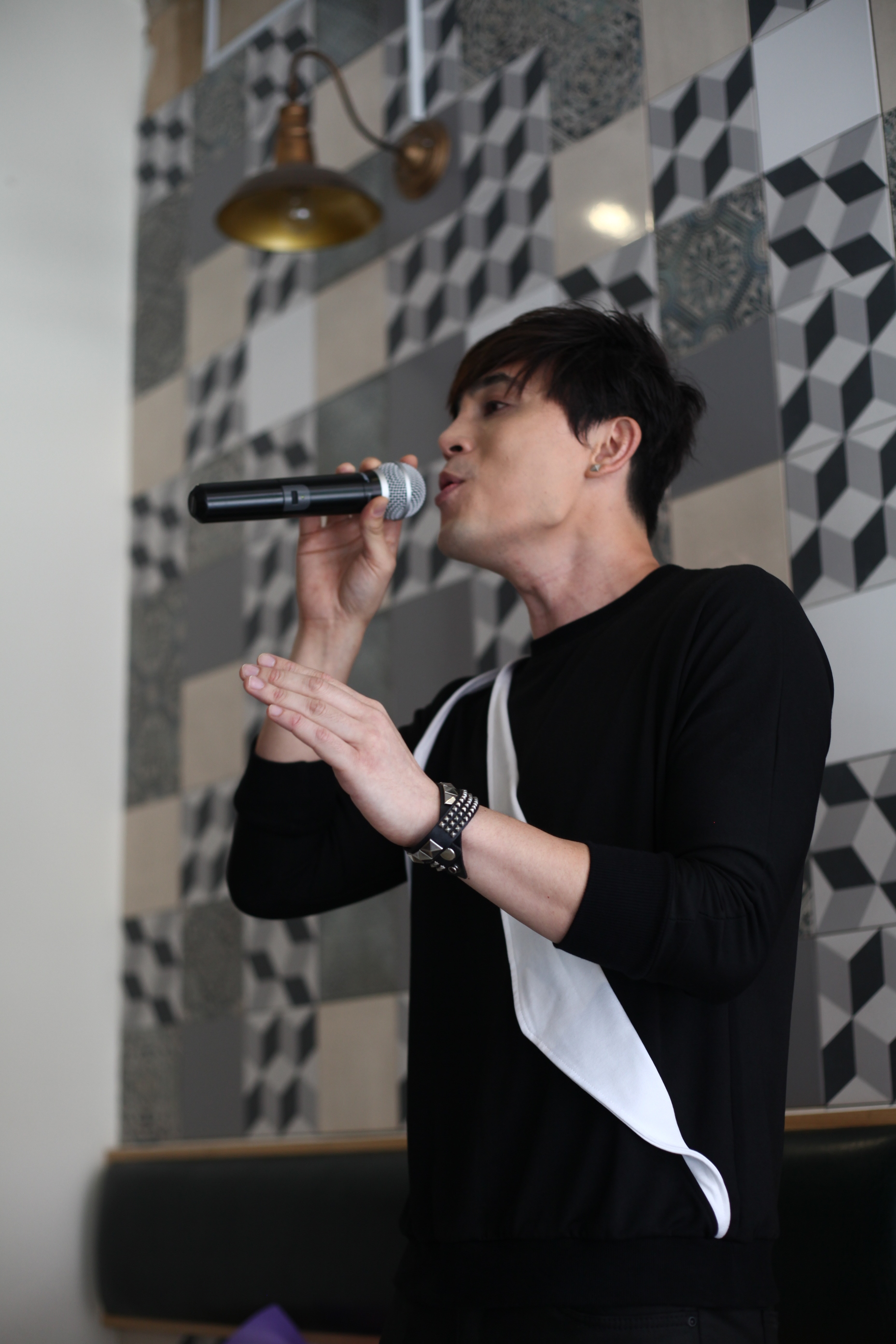 Love 97.2FM radio presenter Wallace Ang's passion for music did not stop just there. 7 years since he released his debut album 'Roles', Wallace's undying love for music led him to take up the role of a singer-songwriter once again, and release his brand new self titled album, consisting 8 of his originals.

The press conference and album launch, organised by CROSS RATIO Entertainment, was held on 29 October 2015
at The Laneway Market, a cozy café located in a laneway off the busy Tanjong Katong Road.
Other than media and celebrity friends, Wallace has also invited 10 lucky fans to join him on this joyous occasion.

Fellow radio presenter and good friend, Chen Biyu, has also come onboard to host the event. Other than sharing his inspiration and production process, Wallace also showcased 2 songs from the album, namely his first single 《过渡期》and second single 《怎么安慰》. The other highlight of the album launch was the birthday surprise planned by MediaCorp artiste You Yi (whom is also a good friend of Wallace) to celebrate Wallace's birthday.

WALLACE ANG Brand New Self Titled Album is now on sale at CD RAMA and all good record stores. The first single 《过渡期》is available on iTunes for download. Full album is also available on iTunes for download now!